Día de los Muertos Film Festival 2015
For those that have expressed interest in attending our 3rd Annual horror movie night!
However, the forecasters were right and even more so…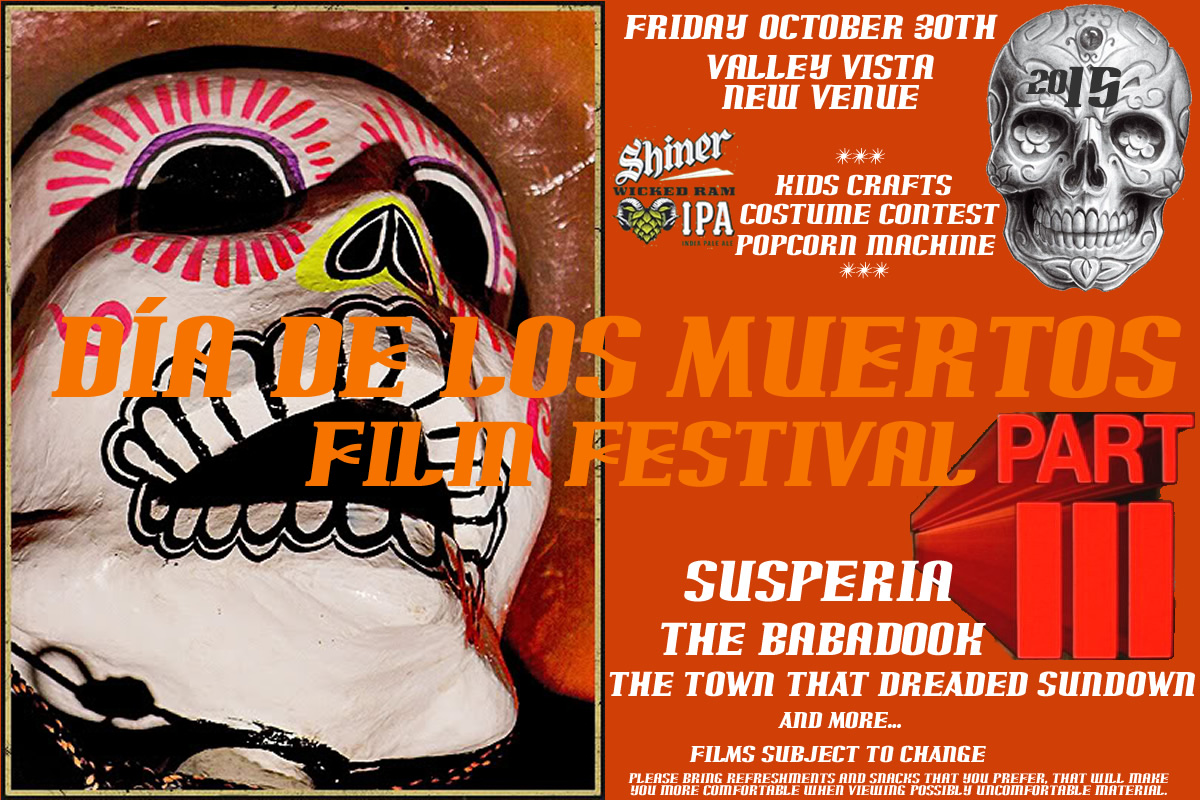 Well there's floodin' down in Texas, and we want all to be safe in their homes and on the roads and pray for others affected by the flood waters.
Día de los Muertos is a Mexican holiday to celebrate the circle of life. It is our intentions to observe what is known to us as The Day of the Dead, as well as our own Halloween, and celebrate these in film.
This started out as watching horror movies alone at home on Halloween Night, after putting candy fueled children to bed. Too scared to continue to watch these movies alone, it was my intention to have a gathering to watch these with family and friends.
The outdoor projection screening is the most special to enjoy these sort of films. If it is dry enough on Sunday, we may be able to hold this event on the actual Día de los Muertos day. And could start the screenings an hour earlier, due to Day Light Savings.
Dia de los Muertos (Day of the Dead) 2015 begins on Sunday, November 1
Will let those know that have RSVPed if we still plan to hold the event on Sunday when it gets closer. If not, then please come out and enjoy this event with us next year!
Día de los Muertos Film Festival Part III, on Sunday Evening, the actual Dia de los Muertos Day of the Dead, day!
Please RSVP, if you are able to attend.
Kids Events most likely canceled due to a new soggy sod lawn.
Costume Contest
Popcorn machine
Keg of Shiner Wicked Ram IPA – (Released less than 2 weeks ago)
Film Screening Schedule
Times moved earlier one hour due to DST.
(Films and Times Subject to Change)
Later Screenings all to be voted upon by viewers. Bring your favorite horror film or one will be drawn from the Necronomicon (otherwise known as Heavy Metal Movies: Guitar Barbarians, Mutant Bimbos & Cult Zombies Amok in the 666 Most Ear- and Eye-Ripping Big-Scream Films Ever).
Costumes are both welcome and encouraged!!
Dress the part, Play the part. Halloween was only yesterday!
Please contact me directly if you might like to come over late at night tonight or Sunday and watch as an indoor screening
Past Events